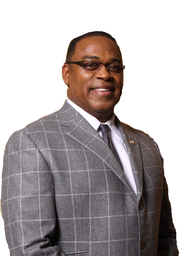 Bishop Ira Combs, Jr., D.D., pastor of the Greater Bible Way Temple Church of the Apostolic Faith in Jackson, Michigan, is founder and executive director of Christ Centered Homes. With a degree in theology and a degree in business marketing from Michigan State University, Bishop Combs brings the compassion of a Christian and the skills of an executive to his role as leader of Christ Centered Homes.
Pastor Combs founded Greater Bible Way Temple Church in 1980. His decision to launch and manage CCH stems from his conviction that people of faith should care for the less fortunate. This motivation and his skills as an executive are a rare combination because most directors of living assisted facilities do not have a background in business marketing because regulators do not require such expertise.
He has held career positions in Lansing, Michigan at Xerox Corporation and National City Bank, with Ford Motor Company in Dearborn, Michigan and American Building Maintenance in Detroit. Primerica Insurance Company promoted him to District Manager (1985-1986), recognizing his service as the number one insurance sales leader in his region.
Pastor Combs subsequently began to help provide living assistance by working with Benjamin Hayes, the late founder of the Livonia, Michigan-based Elmira Inc., a provider of residential services in Wayne County. With that experience and the encouragement and assistance of Michigan State Senator David Holmes – a legislator concerned about the lack of minorities in the residential care industry – he founded Christ Centered Homes in 1989.
ECCLESIASTICAL LEADERSHIP
Responding to a spiritual calling and his desire to use his business acumen to help communities, he earned a Bachelor's of Theology degree from Indiana Bible College in 1991 and studied finance at Oxford University in Oxford, England in 1995.
In 1999, Pastor Combs received an Honorary Doctorate degree from Aenon Bible College for his published work entitled "The Era of Apostolic Excellence – A Chronology of the Teachings of Bishop R.P. Paddock." He subsequently received a series of honors – among them, an Honorary Doctorate of Divinity from the Aenon Bible College of Indianapolis in 2003 and Honorary Doctorate of Theology and Divinity degrees from St. Thomas Christian College (Jacksonville, Florida) and from Grace Bible College (Louisville, Kentucky) in 2006.
He was elevated to the office of Bishop within the Pentecostal Assemblies of the World (PWA) – the world's oldest and second largest evangelical organization – in August 2010 and is a member of PWA's national Board of Bishops. He also serves on the Board of Directors for the Aenon Bible College in Indianapolis and as Ministerial Counselor for the Jackson County Sheriff's Department.
COMMUNITY SERVICE: HEALTH, HOUSING AND PROTECTION OF THE VULNERABLE
Bishop Combs' has demonstrated leadership in the areas of health, housing and the protection of the vulnerable in many prestigious appointed positions. In the area of health, he has served on the Jackson-Hillsdale Community Mental Health's Committee to Develop Fee for Service Contracts and – in March 2008 – the American Psychotherapy Association designated Bishop Combs as an Academy of Certified Master Chaplain.
He has been helping protect vulnerable Michigan residents by serving as a member of the state Attorney Discipline Board and as a member Adult Foster Care Licensing Advisory Council, an appointment made by Michigan Department of Human Services Director Maura Corrigan. He also served on the State Child Abuse and Neglect Prevention Board, an appointment made by former Michigan Governor John Engler.
In housing, he has served on a board overseeing a Jackson division (Springbrook Meadows) of Presbyterian Villages of Michigan, a faith-based nonprofit organization that provides senior housing and services throughout the state. In addition, Bishop Combs served as the President of the Michigan Housing Coalition Community Reinvestment Act Network.
BUSINESS-RELATED ACTIVITIES AND HONORS
As an advocate for community development, Bishop Combs had regular appearances in December 2005 and January 2006 on CNBC's "On the Money" segments with business day anchor, Dylan Ratigan and was featured on the cover as lead story in the May 2000 edition of Jackson Magazine.
He was also included in the 1997-98 American Directory of "Who's Who in Executive and Business" and more recently in the 2011-2012 Cambridge "Who's Who Registry of Executives, Professionals and Entrepreneurs." Also, he served on the American 1 Credit Union Board. In addition, he has served on the Advisory Board of Starr Commonwealth in Albion, Michigan and is a former member of the Board of Directors of the Jackson Chamber of Commerce.
As a student at Michigan State University, Bishop Combs served on the committee that raised $17 million to build Delores Wharton Performing Arts Center at MSU.
Press Release: Cambridge Who's Who
Ira Combs Jr. Recognized by Cambridge Who's Who
for Excellence in Ministry
Ira Combs has been named a VIP for 2011-2012
JACKSON, MI, October 4, 2011, Ira Combs Jr., Executive Director of Christ Centered Homes, Inc., has been recognized as a VIP member by Cambridge Who's Who for demonstrating dedication, leadership and excellence in ministry.
For 33 years, Bishop Combs has led Christ Centered Homes, a nonprofit organization that provides community staffing and housing, as well as personal care services for the developmentally disabled. In his role as executive director, he utilizes his expertise in ministry, building projects, community outreach and community housing acquisition. In addition, he manages administration, develops and implements strategic plans, and oversees the nonprofit's values and missions. On a day-to-day basis, Mr. Combs supervises community outreach operations, reviews quality assurance, and oversees credentialing for Christ Centered Homes, Inc. Attributing his success to his faith, hard work and political instincts, he became involved in his profession because he saw a need for community-based programs in the area.
Bishop Combs is well-rounded in his knowledge and interests and, just last year, earned a master's degree in theology from Michigan State University. He is also a member of the American Psychiatric Association as well as the Association of Homeland Security. In the future, Mr. Combs intends to build and expand the organization's reach to include multi-housing units.